Thru-Bolt Motor Bolt Measurements
Thru-bolt motors are designed to utilize the long bolts which hold
a motor assembly together as a way of attaching a wet-end to a motor.
Thru-bolt style motors/pump are widely used in portable spas.
If you are replacing a motor or wet-end, you will need to know the following information.
The most common thru-bolt pattern is commonly referred to as :
- standard bolt pattern
- 48 frame bolt pattern
which measures, center to center across the top two thru-bolts, apox 3-5/8 inches apart. (red arrow)
or apox 5-3/16 inches across, intersecting the motor shaft. (blue arrow)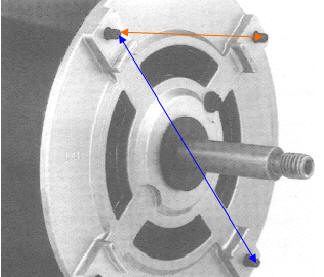 Another thru-bolt pattern used on many Waterway pumps is sometimes referred to as :
- wide bolt pattern
- 56 frame bolt pattern
which measures, center to center across the top two thru-bolts, apox 4-1/8 inches apart. (red arrow)
or apox 5-13/16 inches across, intersecting the motor shaft. (blue arrow)