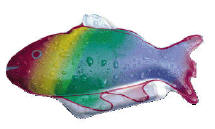 The Tropical Fish heats the pool by keeping the heat in, especially in the spring & fall. Evaporation accounts for up to 90% of heat loss from swimming pools. The Tropical Fish reduces evaporation by 50%. That's half of all water loss. Just imagine how much heat you will save! It's a necessity, not an accessory!


Product Technical Data

The Tropical Fish emits isopropyl alcohol along with an active ingredient, which forms a one molecule thick invisible layer on the surface of your swimming pool. The alcohol dissipates as soon as it comes in contact with water. This innovative nontoxic liquid became the popular choice for retaining heat in commercial swimming pools over 15 years ago. It only has been packaged differently to facilitate residential pool owners. Internationally acclaimed, this breakthrough product does not change the balance of pH, chlorine, or alkaline in the water; will not affect vinyl liners or any other pool devices and surfaces; and is completely harmless in contact with pets and humans. The active ingredient in each Tropical Fish is biodegradable, therefore the Tropical Fish has been designed as a "Slow Release" applicator in order to achieve longevity. Do not pour out the liquid all at once. It will biodegrade within 5-6 days. Even faster when you backwash.

H2O #
Manf. #
Description
Qty
6438150
LSB

Tropical Fish liquid solar blanket, each

15/box or 60/case

HOW THE FISH WORKS
The active ingredient inside each Tropical Fish will float to the surface of the pool and create an invisible layer on top.
The Tropical Fish is a "slow release" applicator as the liquid inside is biodegradable.

Each Solar fish lasts about a month. One fish will protect an inground pool up to 15 ft x 30 ft or an above ground pool up to 21 ft round. Two fish are required for inground pools from 16 ft x 32 ft up to 20 ft x 40 ft and for above ground pools over 21 ft.

Step 1
Use scissors to cut along the black line located on the top fin.

Step 2
Give the Tropical Fish a little squeeze to let any air out.
Stop squeezing when a dribble of the blue liquid begins to come out.

Step 3
Put the Tropical Fish Liquid Solar Blanket into the pool.