7416206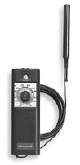 7416215
7416225
Controller
H2O #
Manf. #
Description
7416205
Special Order
A319ABC2401

Electronic thermostat -20 to 100 degree,
SPDT 120/240, 16 AMP @ 120 V.
adjustable differential (1 to 30 degree) Note 1 & 2

7416206
A419ABC-1C

Electronic thermostat -30 to 212 degree
( good choice ) Note 1 & 2 & 3

7416215
A19ABC-24

Penn aquastat 30 to 100 degree, SPDT
120/240, 8ft capillary with 5/16": bulb Note 1 & 2

7416225
Special Order
A19ABC4

Penn aquastat 50 to 130 degree, SPDT
120/240, 8ft capillary with 5/16": bulb Note 1 & 2 & 3
Note 1 - Commonly used as heat limiting device to turn pumps off when they are left running by a spa user.
Pumps left on for extended periods can transfer heat from the pump motor into the water which increases water temperature in the spa enough to melt PVC plumbing.
Note 2 - Commonly used as freeze protection to activate and de-activate spa pump(s) at a pre-set temperature.
Note 3 - Can be used as heater thermostat since temperature range exceeds 100 degrees